Earlier this year, my wife and I moved from a small two bedroom garden apartment into a more spacious residence. Not only is the house spacious, we also have a decent sized garage. And not only a garage, but a garage with a second floor that is wide open. Truly spacious!
My intentions for this upper room have included: a.) a workout area, b.) a music room, c.) an art studio, and d.) a year-round entertaining facility.
Point a: I moved my weight bench up there. I haven't lifted any weights. I installed a pull-up bar in a doorway. I can't do pull-ups. I did workout with a jump rope several times. But then I wrecked my ankle in June and haven't been able to jump rope or anything else since.
Point b: My wife made an executive decision that all musical instruments must remain in the house, near at hand, ready to pick up when inspiration strikes.
While point d sounds like fun (music playing, people sitting around on couches, chatting, a grill going outside the garage even in the winter), my real desire has been c, an art studio.
Today it has finally begun.
Today is also the start of 18 days away from work. I have vacation days to use before the end of the year. So I find myself with time on my hands and thankfully, an improving ankle on my leg. With time, physical prowess (says the guy who can't do a pull-up), and inspiration, these 18 days will be a good time of making and using this creative space.
I should add that two providential incidents happened just yesterday that have helped me get in gear with this. First, I had been in need of a desk or a work table to use in this studio. I had put the word out. I wanted something inexpensive. And by that I mean: FREE. Yesterday, right next door, someone was getting rid of a desk. It was FREE! The second providential incident was finding this fortune when I cracked open a cookie after devouring a dish of sesame chicken: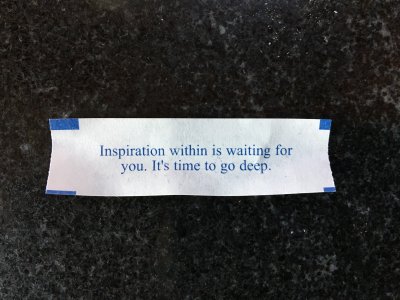 A few things you might notice in the photos above (if you look close enough):
I've got the time. I've got the inspiration. Now I've got the creative space.