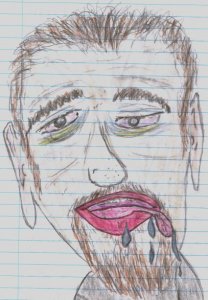 Sam Snyder is a Master Artist and highly feared Ninja Warrior
.
.
.
You're not falling for it, are you?
Sam Snyder is a self-respecting doodler. (Since no one else respects him!) He also has a day job.
He believes everyone can and should be creative. Whether you think your art is "good" or you think it's "shit," who gives a shit? Create for the sake of being creative. Create for the sheer enjoyment of it. Draw, paint, doodle, scribble, or whatever strikes your fancy. Certainly, if Sam Snyder can do it, YOU can do it.
Don't try the ninja stuff though. Sam Snyder is a highly trained professional in that regard. You might hurt yourself.
Also, don't ask why Sam Snyder wrote this in the third person. He's just dopey that way.
One last thing. Sam Snyder has another blog. He's been at it for a long time. You can visit him at BloggingSam.com He writes in the first person over there. Usually.